I'm glad to see you again. Nothing except positive things to say about you. The Free Amazon Prime Accounts Usernames and Passwords 2023 (100% Working) are the main topic of today's blog. This article will discuss the Free Amazon Prime Accounts Usernames and Passwords 2023 (100% Working).
The Free Amazon Prime Accounts Usernames and Passwords 2023 (100% Working) will be covered here. You can read our most recent blogs, Free Recharge Tricks 2023 and Free Recharge Apps 2023.
Free Amazon Prime Accounts for 2023 – Usernames and Passwords
I'm happy to see you all! I genuinely hope everyone is making use of the exclusive deals and insider information that Androidbuzz has made available. Today, we're launching a new service in India that is on par with the 5G recharge plan deals we previously provided. The process of setting up an EDU email account is also stressed. The Free Amazon Prime Accounts Usernames and Passwords 2023 is covered in more detail in this article.
The largest online retailer in the world and the parent company of this streaming service is Amazon. A free Amazon Prime Account will give you more benefits than any other streaming service, including quick Amazon shipping, a prime account, prime music service, and others.
Free Amazon Prime Accounts 2022 – What They Are?
You might want to purchase a Free Amazon Prime Accounts for yourself now that you are aware of all its wonderful benefits. However, you must pay for membership in order to obtain a premier account and become a member. However, many people find membership to be excessively pricey and so unaffordable.
In order to give you free access to all the prime benefits, we are releasing several free Amazon Prime Accounts today. Receive all the benefits of a standard Prime member without spending a dime.
What precisely do Free Amazon Prime Accounts include?
Free Same-Day Delivery in qualifying zip codes, FREE Release-Date Delivery on eligible presale items delivered on their release date to ZIP codes within the continental US, and FREE No-Rush Shipping are just a few of the shipping advantages offered by Free Amazon Prime Accounts.
Is Amazon Prime Accounts cost-free?
You can presently purchase a Prime membership on primevideo.com for a discounted price of $1499 per year, or you can get a Prime Video Mobile Edition plan for $599 per year. Plans for one month and three months are available to some consumers.
How many users are allowed to have Free Amazon Prime accounts?
With the same login information, up to three devices can access Amazon Prime Video simultaneously, but only two devices can watch the same title or content at once.
Worth signing up for Free Amazon Prime Accounts?
Absolutely, even at Rs.139 per year, Amazon Prime is worthwhile. Members of Prime receive a tonne of advantages for the Rs.14.99 or Rs.139 annual price. These consist of free same-day delivery, two-hour grocery delivery, premium streaming services like Prime Video and Prime Music, plus an incredible number of additional deals and coupons.
How do Prime and Amazon Prime differ from one another?
Summary. The parent firm is Amazon.com, and one of its services is Amazon Prime. Standard delivery is available from Amazon.com for purchases made through its website; free Amazon Prime Accounts members also receive discounted rates for extra expedited delivery choices in addition to free, standard, or 2-day delivery.
How can I obtain free Amazon Prime for life?
How to Obtain Free Amazon Prime Accounts in 2023
Register with a new email address, use Amazon Prime Day, sign up for a free trial of Amazon Prime for students, get cash back with an Amazon credit or store card, and more.
Discounted Membership Options, the Sprint Cell Phone Plan, and becoming an Amazon Associate are all available for enrollment.
With a card, is Amazon Prime free?
With any of the co-branded Amazon credit cards, you won't even receive a complimentary Amazon Prime membership. But if you have an Amazon credit card and are a Prime member, Amazon has a function that lets you use incentives to pay for your Prime subscription.
Do Amazon Prime Accounts cost nothing to students?
Amazon Prime Student gives the longest free trial period it presently offers to students, a six-month trial (for comparison, non-students get a 30-day free trial). After that, students may continue their Amazon Prime subscription for $7.49 per month, which is 50% less than the usual membership cost.
Who can receive free Amazon Prime Accounts?
You can join up for a free trial of Amazon Prime if you haven't been a member for the previous 12 months. Your account has to have a functioning credit card in order to join up for the Amazon Prime free trial. You cannot utilise pre-paid credit cards, checking accounts, or an Amazon.com Corporate Line of Credit as payment methods.
What are the advantages for students of Prime?
You can receive a 50% Prime discount for up to four years when you join Prime Student. Your subscription immediately converts to a full, paid Prime subscription at a 50% discount after your six-month Prime Student trial has ended. This discount is valid for four years or until you graduate, whichever comes first.
Additional Benefits
Prime Video on Amazon is available for free. to enjoy contemporary films like "Padmaavat"
Millions of songs are available for free on the Amazon Prime Music Service.
The benefits of becoming an Amazon Prime member are numerous and include FREE one-day/two-day delivery, FREE Standard delivery, reduced same-day/morning delivery at Rs.50, scheduled delivery at Rs.50 for Prime eligible items, early/exclusive access to lightning deals, and more.
What paperwork is needed to register with Amazon?
To register, you will need the following information:
Your company's information.
Your phone number and email address for contact.
basic facts regarding your company.
Details of Tax Registration (PAN and GST). If you are listing taxable goods, you must give GST Details at the time of registration.
How to Create a Free Amazon Prime Account and Login
To log into the Amazon Prime app, you just need to follow a few easy steps.
Visit the official Amazon Prime website or download the Amazon Prime app.
Register a new account or log in using the links below.
Using the free Prime accounts listed below, log into the app. The app's home page will be instantly redirected.
You are now prepared to view all of your favorite movies and web series while taking use of other addictive features.
How To Get A Free 30-Day Trial Of Amazon Prime Membership
1, If you are not a Prime user, simply visit this Amazon page.
2. Click Join Prime Now to sign up.
3. Log in or register for an Amazon account.
4. Click "Starts Your 30 Days Free Amazon Prime Membership Trail"; if it doesn't appear, you're not eligible.
Fill Out The Details Of Your HDFC or ICICI Debit Cards Or Any Credit Card | Kotak811 Virtual Card May Work 5. Free Amazon Prime Membership
List of active bank cards
Completes the Payment and Rs.2 Refundable Charge Will Be Deducted From Your Account in Step 6 of the Free Amazon Prime Membership Working Bank Cards List.
7. You have now successfully begun your 30-day free trial on Amazon.
Additionally, activate the free 90-day Audible offer from Amazon from this page. Free Amazon Audible: 3 Months of Premium Access for Free (Value: Rs.600; 5 FREE Audio Books)
8. If, after 30 days, you decide not to continue, you can delete your card information from your Amazon account.
9. Enjoy !! Free subscription to Amazon Prime
Utilize Paytm Cashback Points to Receive a Free Amazon Prime Membership:
In their cashback and incentives area, Paytm is providing Free Amazon Prime subscription for 1 month and 3 months. With the use of your Paytm cashback points, you may purchase this Prime membership.
Utilize Paytm Cashback Points to Receive a Free Amazon Prime Membership
Paytm offers a unique rewards program called Cashback Points. You can acquire them by using Paytm to conduct transactions and make payments. You may later exchange your reward points for a variety of advantages including freebies and premium memberships.
You must have 17000 or 43000 Cashback points to qualify for the free Amazon Prime membership. Earning Paytm reward points is really simple. Go to the Paytm app's Cashback & Offers section right away. Click on the Cashback Points area, then scroll down to find offers for 1- and 3-month Amazon Prime memberships.
You will receive a special coupon code for a Prime subscription when you click the "Redeem" button. On the Amazon Prime membership page, you can redeem it.
Must Be Aware Of:
This promotion is good through December 29, 2022.
It will ask a customer to log into his account if he is not currently logged in to Amazon.
It will ask the customer to register for an Amazon account if they don't already have one.
Only customers with active Amazon accounts are eligible to use Prime.
The customer's Prime trip is enabled for a period of 1 month following confirmation of the billing address, at which point all perks are available.
If an existing Prime member receives a stackable code from a partner, their membership can be extended. There can only be one stacking occurrence at a time. A consumer is only permitted to extend or stack their Prime membership once. Additionally, if a consumer is enrolled in a cell carrier's Prime plan, stacking is not permitted (Airtel, VI, Jio etc.).
An Amazon Business account is unable to claim a Prime membership.
Win a Free One Month of Amazon Prime Membership in the bingo promotion contest.
Here is another competition from Bingo known as the "Bingo Promo" competition or the "Bingo! Amazon Prime Competition." To win a Free Amazon Prime subscription, you simply need to scan the QR code and complete a short form. There are a lot of chances to win because there will be nearly 5.5 lakh contest winners. Each day of the contest period, up to 3600 winners may be chosen, and a total of 550800 winners may be chosen throughout the contest period for this Bingo! Amazon Prime contest.
Amazon Prime Membership Contest at BingoPromo.in: Daily 3600 Winners
How to Get a Free Month of Amazon Prime:
The bingo packs priced at Rs.10 and Rs.20 are eligible for this promotion! Ah, potato chips! Bingo! and Mad Angles, Masala Tedhe Medhe Tedka
So, get these packets from neighbouring retailers and scan the QR code that is written on top of them.
Alternatively, go directly to https://bingopromo.in.
Name, email, mobile number, state, and other information must be entered.
One question will be posed to you: I adore Bingo because…?
I enjoy Bingo, so please respond with something unique! due to…?
Say something like "it's tasty" or "it's different."
Each day, 3600 individuals will be chosen to submit a unique response.
The winner must redeem the reward code within 30 days of its release because it will only be valid for a maximum of 30 days from the date of issuance.
How to Use the Airtel Thanks App to Get a Free Amazon Prime Membership
The Airtel Thanks app makes it simple to get a free year of Amazon Prime. Both the Android and iOS operating systems support the application. Here's how to use the Airtel Thanks app to sign up for Amazon Prime for free.
Install the Airtel Thanks app by downloading it from the Apple App Store or Google Play Store.
By using your Airtel mobile number, sign the application.
The Discover Airtel Thanks banner option can be seen at the top of the homepage. Touch it.
On the Thanks Page, there is an Amazon Prime gift card. The next screen will appear when you tap the Claim Now button on the card.
To register for or sign in to the app, you will be taken to the Amazon application.
After entering your Amazon login information, the "Welcome to Amazon Prime" screen will appear.
Your Amazon Prime membership will now be active as a result. The confirmation will also be sent to the email address you registered with. It's crucial to remember that after the trial period expires, your Prime subscription will be charged to your Airtel postpaid account.
Free 1-Month Trial of Amazon Prime with PharmEasy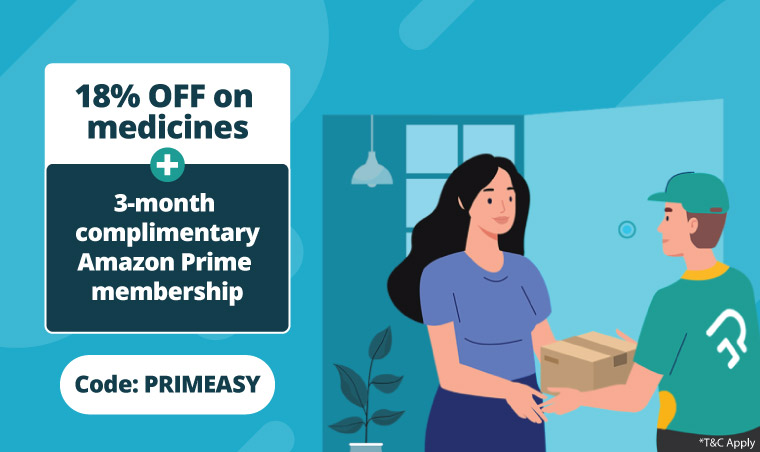 Offer Details: Create a new account, order anything from PharmEasy worth Rs.999 or more, and enter a coupon code. You Will Receive 1 Month of Free Amazon Prime Membership
Eligibility:
1. When ordering the medication, please enter the code APFREE.
2. Rs.999 is the minimum order amount (Transaction value)
3. Only new users are eligible for the offer.
Steps:
The first thing is New User Registration on Pharm Easy
2. Reopen the Pharm Easy website and register for a new account (Valid For 1st Order Only)
3. Order any item now for 999 or more.
4. You Need To Use The Code – APFREE
5. Remember to print out the Amazon voucher from this page by clicking here.
6. Finish your order, and you'll get a free 1-month Amazon Prime membership.
How to Get a Free 1-Year Membership to Amazon Prime Using Kit kat
Amazon has started a new promotion with a 25-pack of Kit Kat. Users of Kit kat are now eligible for free Amazon Prime memberships per minute. In our previous campaign, we already stole a Rs.10 Amazon Gift Card from Kit Kat.
Steps –
1. To begin with, simply buy the KITKAT Dessert Delight 50g pack from your local retailer. Ensure that the offer for a free year of Amazon Prime is printed on that package.
Amazon Kitkat Loot: Get a Free Year of Prime Membership 2. Finish the Kitkat now and write down the 10-digit lot number found on the wrapper.
Send SMS in the Style of –
Send the text DESSERT [LOT NUMBER] to 9902391200.
Try adding
Code
02720454R2 DESSERT
02700454R1 DESSERT
There are more lot numbers: 02700454R1, 02720454R2, 02710454R2, 02730454R1, and 02740454R1.
To send the above code, enter 9902391200.
4. One lucky user will win a free year of Amazon Prime membership every five minutes.
5. Each day, 144 winners in this category will be chosen, one every five minutes during the 12-hour Program period between 9 AM and 9 PM.
6. The Promotion Is Valid From 20 October to 28 November 2020
7. Done !!
ID and Password 2023 for List Of Free Amazon Prime Accounts
Note: Please don't change ID and Passwords
If you are unable to sign into an account, the password has likely been changed.
Additionally, it can imply that the account has been blocked or removed.
If so, try logging in with the credentials from another account.
If an account has no Amazon Prime membership, that signifies the membership has expired.
Periodically, new Amazon Prime accounts will be added to the list.
For Chrome, click the star icon on the URL field to save this page and return later to look for additional free accounts.
FAQ's
1. How can I sign up for a free Amazon Prime membership?
Ans: 1. Simple Ways to Get FREE Amazon Prime in 2023
2. Register for a free trial Amazon Prime membership for students.
Sign up with a new email address.
Use Prime Day on Amazon.
With Amazon credit or store cards, receive cash back.
Register for the Sprint Mobile Plan.
Options for Discounted Membership.
Become an affiliate of Amazon.
2. Is Amazon Prime only cost-free for a year?
Ans: Enjoy FREE Two-Day Shipping, unlimited access to Prime movies and TV series, and much more. Start your free trial of 30 days. Get a year of Amazon Prime for $139. Anytime, cancel.
3. Accounts with Amazon Prime are free.
Ans: Prime ($139 annually)
Following a FREE trial, Amazon Prime costs only Rs.14.99 per month (plus any applicable taxes). Anytime, cancel. Following your FREE trial, Amazon Prime costs only $139 per year (plus any applicable taxes). Anytime, cancel.
4. Student access to Amazon Prime is it free?
Ans: The longest free trial that Amazon presently offers is a six-month trial of Amazon Prime Student, which is available to students (for comparison, non-students get a 30-day free trial). Students can then continue with Amazon Prime for $7.49 per month, which is 50% less than the usual membership cost.
5. How frequently can you receive free Prime?
Ans: Only for a month or two at a time can you sign up for Amazon Prime.
Or, to take advantage of discounts, you can sign up for one or two months (one free and one paid) during the holiday shopping season. However, keep in mind that you can only receive one free trial of Amazon Prime every 12 months.
6. Netflix or Amazon Prime: who's better?
Ans: In October 2022, Netflix had 4,753 seasons and 3,687 films available. A staggering 36,412 movies and 6,133 TV seasons are available on Amazon Prime. It's critical to keep in mind that a sizable portion of the selection for both services is utter garbage. For instance, 31,066 of the movies on Amazon Prime are Not Rated.
7. Can I reapply for a free trial of Amazon Prime?
Ans: Wait 12 months.
All you need to do is wait a year after your free trial period ends. You can then sign up for another free 30-day trial of Amazon Prime. Just go back to your account and choose Prime once more. You need to be able to carry out the procedures to obtain another free trial.
Disclaimer: This article contains only free accounts that were found online. If accounts are not functioning, we are not liable.
Here we are providing free Netflix premium accounts for our users go through this link
CONCLUSION:
I am appreciative that you are reading, and I sincerely hope you will continue to do so. Give a copy of this article to a friend or family member so they may get the most use out of it.