How to change your Netflix password for the Desktop/mobile app For 2023 Sure 100%  Working
I'm glad to see you again. I have only positive thoughts for you. We'll now go over how to change Netflix password for Desktop or mobile. we are going to teach you How to change your Netflix password for the Desktop/mobile app. Netflix has Amazing Features. There are so many ways to change your Netflix password
Netflix :
Netflix is a subscription-based internet streaming service that gives its users access to a wide range of shows, movies, and documentaries of their choosing in a way that the conventional remote control method is unable to. You can also download TV series and movies using the app to your iOS, Android, or Windows 10 device and watch them offline.
However, you can change your Netflix password at any time via the Account settings option on the Netflix website or the mobile app, regardless of the cause. This step-by-step tutorial will show you how to update your Netflix password on a desktop or mobile device.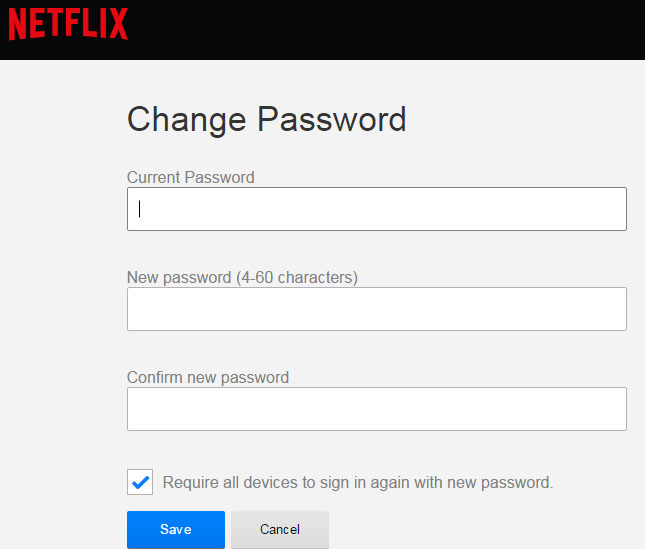 What Netflix's benefits and drawbacks are there?
It has no ads.
Numerous viewers.
Offline Playback Functionality.
Excellent library.
Friendly to users.
Compatibility of devices.
Price.
Excellent viewing experience.
How to Change your Netflix password on a desktop computer
Below steps you need to follow to change your Netflix password on your desktop
Open a browser and go to Netflix.com first.
Next, log in by providing the necessary information.
Hover over the icon for your profile in the top right corner of the screen after logging into your account.
Click Account in the drop-down menu that appears.
Click Change Password in the membership and billing area.
Enter your current password on the page to change your password before entering the new one.
Click Save when you are finished.
How to update your Netflix password By Using Mobile
Below steps you need to follow to change your Netflix password on your mobile
Open the Netflix app on your smartphone first.
Next, select More from the menu in the bottom right corner of the screen.
Now select AccoNow select Account from the menu that appears.
In a web browser, your account settings will appear.
Tap Change Password on the new screen.
Enter your current password and the new one on the password change page.
Click Save when you are finished.
Password reset instructions for Netflix
You'll need to change your Netflix password if you've forgotten it and can't log in.
Under the Sign In button on the Netflix login page, click or tap the "Need help?" link.
Choose Email, type your email address, and then tap or click the Email Me button.
In order to recover access to your account, Netflix will send you a message with advice on how to change your password.
To receive instructions on your phone, you can also select Text Message (SMS), enter your phone number, then click or press the Text Me button.
Click or tap "I can't recall my email address or phone number" if you've updated the email address or phone number you used to sign up for Netflix.
In order to reset your password, Netflix will then request your name and payment or debit card information.
please click below video to know how to change your Netflix password
You may still reset your password, though, whether you remember it or not, using the web or a mobile app. You only need to select the Forgot Password option and follow the on-screen directions.
Describe the appearance of a Netflix password.
Your password needs to be:
8 or more characters minimum. a mixture of symbols, numbers, and characters in both uppercase and lowercase. Not something that may be guessed quickly, such "password," "12345678," or using any personal information (name, birthday, address)
Frequently Ask Questions About Netflix To Change Password
 1. can I check who accessed my Netflix account, right?
Ans: Go to the Settings section.
Click the "Recent device streaming activity" link in the Settings section after scrolling down. There, you may get a list of the computers, places, and IP addresses that have lately accessed your account.
2. Does Netflix actually prohibit the sharing of passwords?
Ans: Netflix is revising its password-sharing policy and will now charge users who share accounts. A Netflix user's account currently allows them to add up to five profiles.
3. What is a Netflix password length?
Ans: Your password cannot contain a tilde (_), and it must be between 6 and 60 characters long. It usually means that your password does not adhere to Netflix's password requirements. If your password satisfies the requirements but the problem persists, try the below troubleshooting procedures.
4. What are the negative effects of Netflix?
Ans: Lack of sleep interferes with their ability to function normally, according to research, and makes it harder for them to concentrate on their studies and other academic tasks. This makes kids feel depressed, lethargic, and sleep deprived, making it difficult for them to focus on their homework and tests.
Here we are providing free Netflix premium accounts for our users go through this link